A Backyard Renaissance Theatre Company Fundraiser
February 27th, 2017 at 7pm
Paul Verhoeven's 1995 stripper fiasco, SHOWGIRLS, is almost equally reviled as an over-the-top, camp, trash-film as it is celebrated as a legitimate, cult-following masterpiece.
Satire or not, sharp social critique or campy exploitation film (and who's to say it can't be both?), SHOWGIRLS is a kitschy onslaught of full-blown mayhem and a bizarro spectacle to behold.
by Beth Henley
March 16th – April 2nd, 2017
Starring: Francis Gercke, Jessica John, Brian Mackey, Jacque Wilke and David Raines.
At the latter half of the 19th Century, two mail-order brides (Macon and Bess) have traveled West, to say "I do" to men they've never seen.  Macon, an adventurer, dreams of leaving her new, steady, one-eyed husband, while Bess is content to dodge her husband's bullets and demeaning words. But a severe winter and starvation set life into motion and change is coming…
by Anthony King & Scott Brown
August 4 – September 4, 2016
Bud and Doug think they may have just written the greatest musical of all time– a big, splashy song-and-dance spectacular about the inventor of the printing press, Johann Gutenberg. (Yes. Really.)
You are cordially invited to a backer's audition where Bud and Doug will play all 30 roles, sing every song, and hopefully find a big-time producer to make their Broadway dreams come true!
Both a loving tribute to and a biting satire of the Great American Musical, this hilarious two-man spoof was developed at Upright Citizens Brigade before becoming an Off-Broadway hit.
This musical isn't just good. It's Gutenberg! The Musical!
The Elephant Man by Bernard Pomerance
April 8 – 24, 2016
The Elephant Man is based on the life of John Merrick, who lived in London during the latter part of the nineteenth century. A horribly deformed young man, victim of rare skin and bone diseases, he has become the star freak attraction in traveling side shows. Found abandoned and helpless, he is admitted to London's prestigious Whitechapel hospital. Under the care of celebrated young physician Frederick Treves, Merrick is introduced to London society and slowly evolves from an object of pity to an urbane and witty favorite of the aristocracy and literati only to be denied his ultimate dream, to become a man like any other.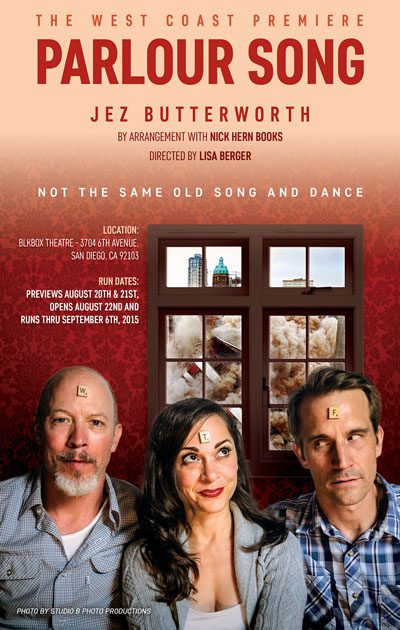 Parlour Song by Jez Butterworth
Previews: August 20 & 21
August 22 – September 6, 2015
Backyard Renaissance's inaugural production kicks off in August.  The first play for the company will be Tony Award Winning Jez Butterworth's Parlour Song, an eerie, touching and very funny look at mid-life crises. The show will be directed by Lisa Berger and will feature Francis Gercke, Mike Sears and Jessica John.